Dental Check up camp
At AyodhyaPuri Slum on 16th April 2015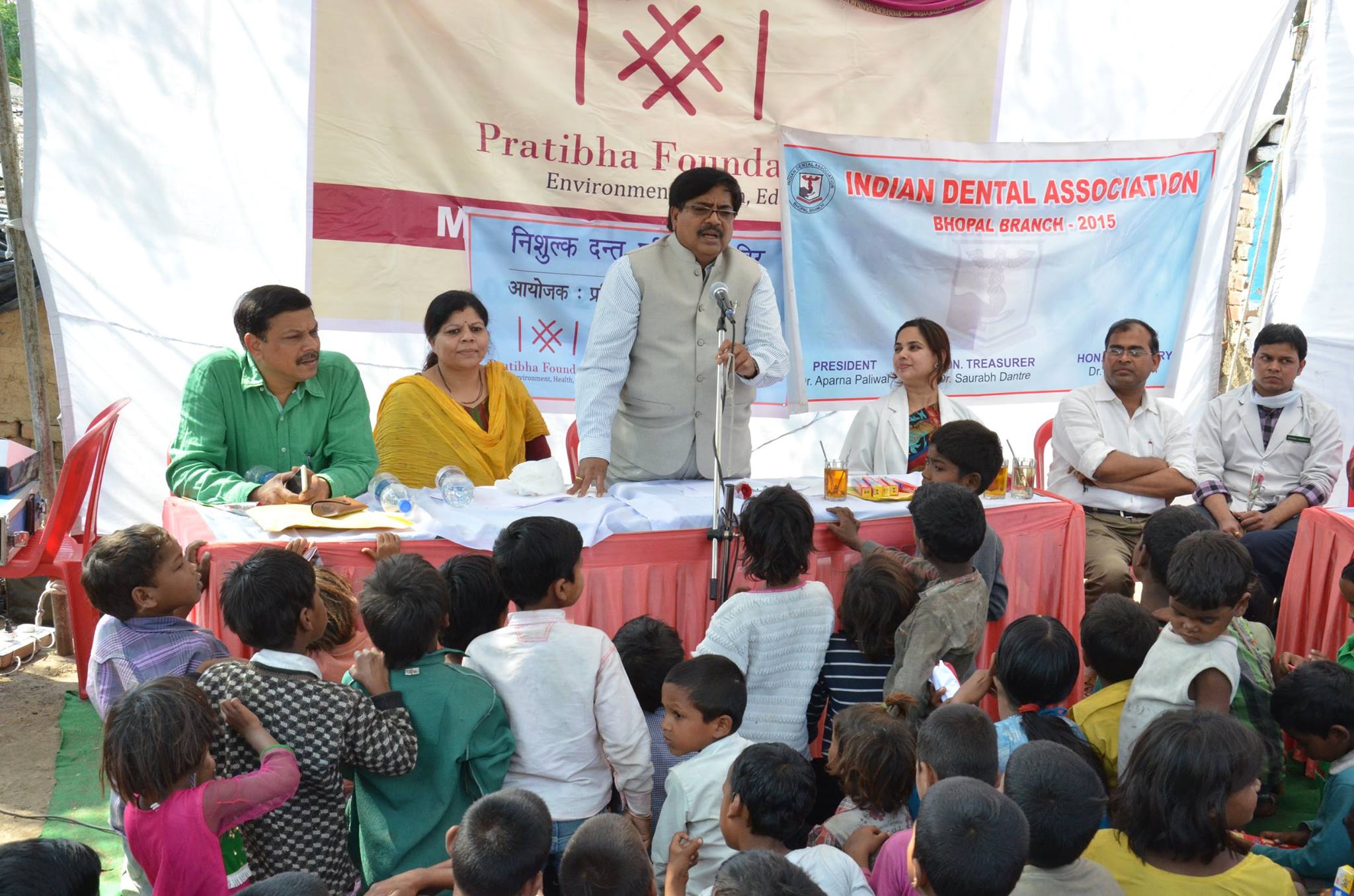 PRATIBHA FOUNDATION organized a mega dental check up in Collaboration with Indian Dental Association Bhopal at Ayodhyapuri slum.
Dental cleaning and oral Hygiene is very key for maintaining basic hygiene. Children in slums have neither awareness on this important aspect nor they have the good ideas about what are the impact of the poor dental health, and harmful effect of tobacco use .
In order to make the slum children aware about this issue we have organized a Dental Check up , and awareness camp in the Ayodhyapuri Basti.
The slum has good no of children, most of them are also consuming tobacco and Gutka.
They also don't clean their teeth daily. We have observed a huge knowledge gap in children for
Chinmaya Mission Volunteers visited the e slum prior to the camp and organized small group meetings and one to one meetings with the families and discussed about the various issues and also created awareness on the dental camp.
The Camp was organized in the slum itself with active participation of the community the basic camp arrangements were ensured .
More than 100 childern participated in the day long camp , they have given personal counseling and advice on the dental care / daily practice of brushing teeth , stop eating tobacco and Guthka . children also got a tooth paste and Brush for the daily use . The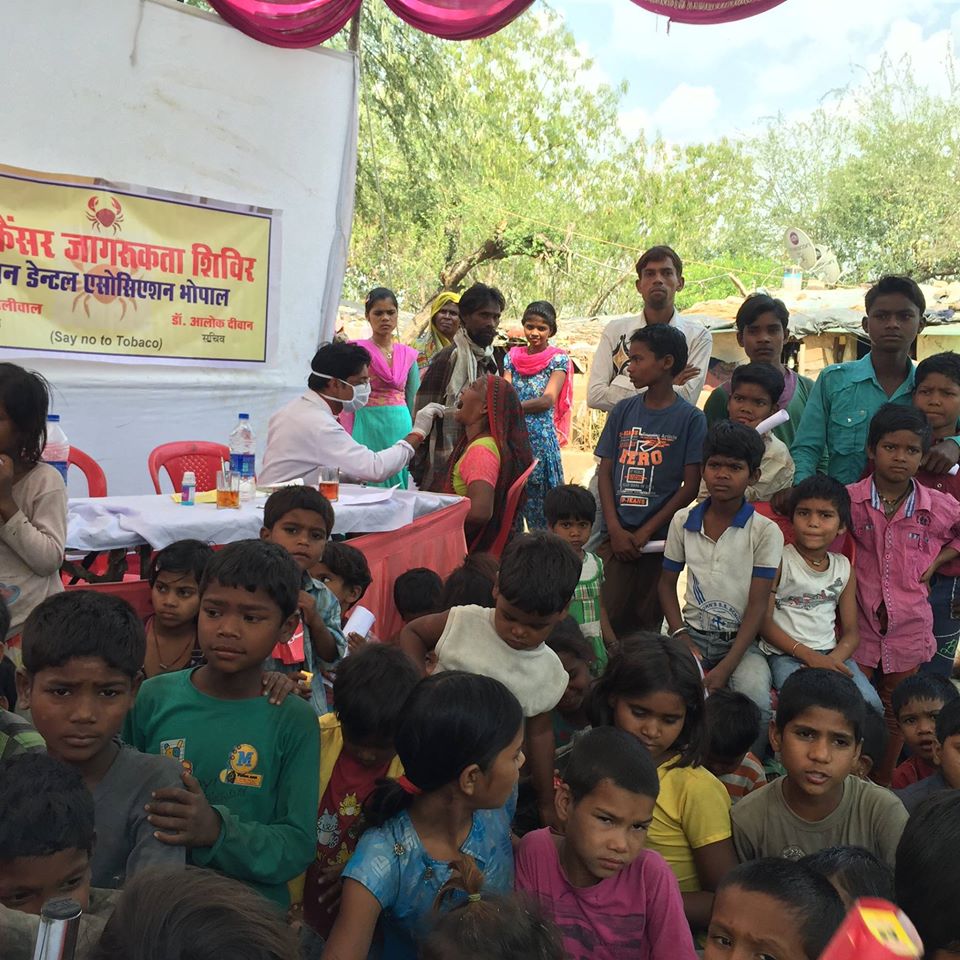 Mr. Suresh Chouksey (Chairman,LNCT group) graced the occasion with his presence and addressed the community. Indian .Dental association President-Dr. Aparna Paliwal, M.P. State CDH, Chairman-Dr. Shireesh Paliwal, Dr. Surya Prakesh Singh, Saurabh Swarnakar, Uttam Hirotha conducted the camp ., Mr. Ram Kumar and Mr. Nileesh from Chinmaya Mission, Bhopal extended good support inorganising and conducting the camp. Mrs. Pratibha Srivastava, advisor Pratibha Foundation and Mr. Sanjay Seetha, Director-Media & PR, LNCT group were also present on the occasion.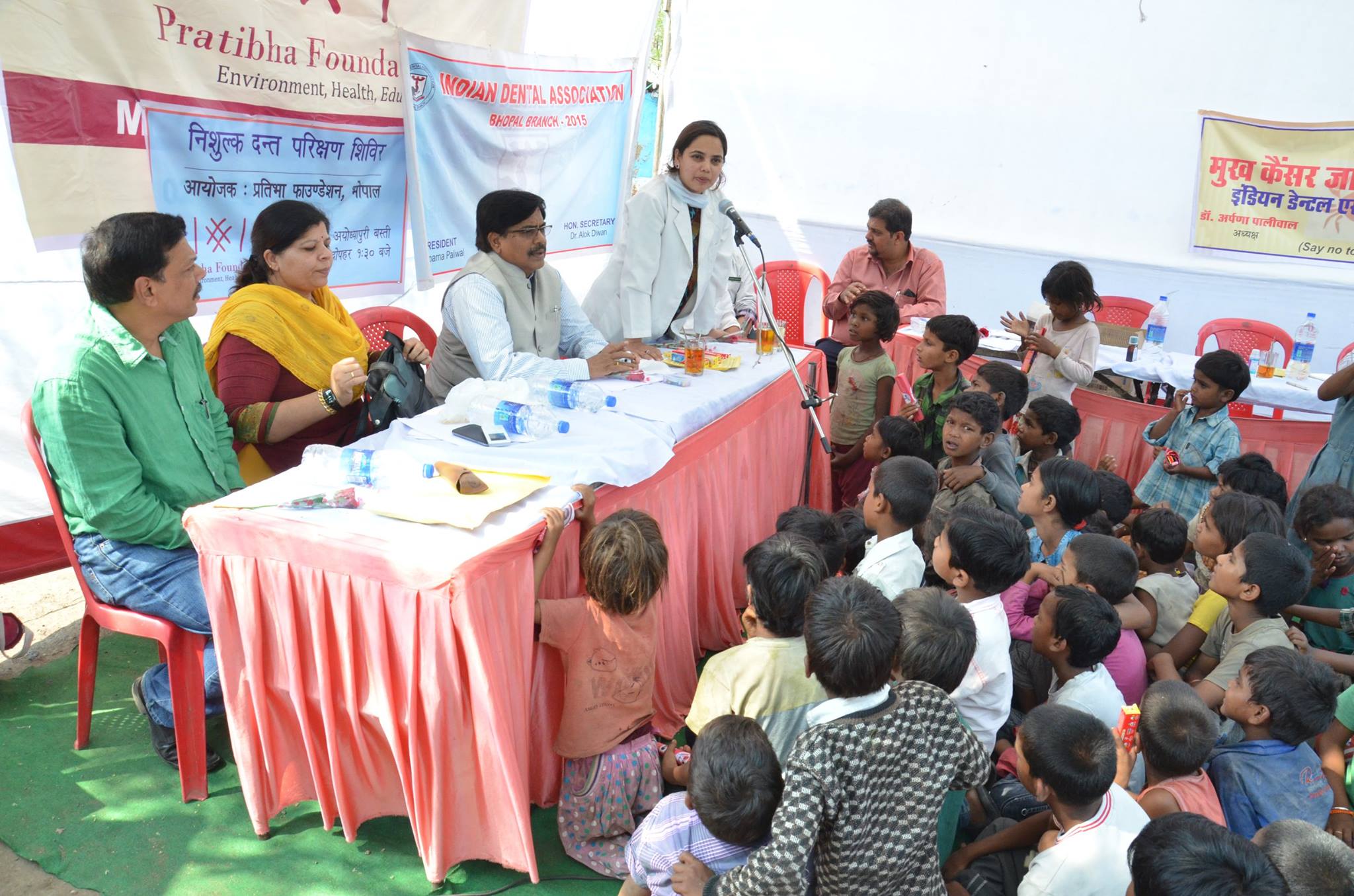 Pratibha Foundation extends hearty thanks to Indian dental association Bhopal President Dr Aparna Paliwal and the IDA team of Bhopal for conducting the camp and providing very important information to the children in slum area of Ayodhya Puri.
Pratibha Foundation also recognizes the ground work done by chinmaya mission volunteers in making the camp a great success.
Finally we are thankful to the people of Ayodhyapuri slum for the participation in this camp .
We will continue making efforts to make the slum people aware about the dental care and effective oral hygine practices